BHFH bustling with building improvements
By Holly Baldwin
It's been a bonanza of building improvements at Beacon Hill Friends House this fall!
Residents have been making plans and laying the groundwork for a bike shed that will provide protection against the elements and easier access to bikes for frequent riders. With most residents in the house biking regularly, our bike storage area in the cellar was over capacity, so this will be a major improvement.
Per guidance from a structural engineer, we removed the chestnut tree from the kitchen courtyard and the three ailanthus trees from the St. Francis courtyard. The trees' roots were posing a threat to the the building walls and pipes, and the limbs have a tendency to fall and could cause damage to people or the building. The courtyards are feeling lighter and more spacious, though the deck could now use more shade. We're working with Chris Jorgenson, a landscape designer from Friends Meeting at Cambridge, on a new landscaping plan.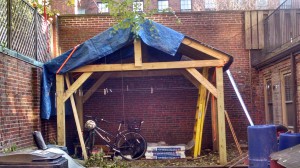 We're upgrading our boiler from oil to gas. Our current boiler was bought by Anne Kriebel in 1983, so we're due for an upgrade. Meanwhile, our chimney will get a new liner compatible with this boiler, and our gas lines have been upgraded. We're sorry to support the gas industry, but glad to stop buying oil, and also happy to have a more efficient fuel to keep us warm. If you have a space heater that you could lend during the the installation period in mid-December, please let us know.
A major improvement for residents and visitors to the house is the introduction of higher speed internet to the house. Despite the fact (or perhaps due to the fact) that we live in downtown Boston, we weren't able to find an easy solution to our need for greater bandwidth. For $8,000 the local cable company dug in the street for 2 days to bring a cable line into the house. Rumor has it that the board decided not to sign up when cable was brought to Beacon Hill back in the 80s — because television was not a priority for BHFH (then or now). If you were part of that decision, we'd love to learn more!
There are many more projects to come in the new year, based on recommendations from the aforementioned structural engineer's report. We plan to make repairs to brickwork in the cellar and in the #6 alley this winter-spring, and if all goes well, we'll continue by repointing the rear facade this summer.
It's an exciting time to be working on the building at BHFH. It's also an exciting time to contribute to support these projects, and the next projects in line!