Caring for Our Neighbors: Protecting Immigrants and Countering Islamophobia
Thursday, March 29th, 7:30pm – 9pm, Meeting Room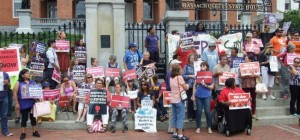 Join Gabe Camacho of the American Friends Service Committee (AFSC) for a discussion of his work to protect immigrants and care for all our neighbors — from defending Temporary Protected Status, to advocating for the Safe Communities Act in Massachusetts, to countering Islamophobia and mass surveillance.
Gabe was born and raised in the South Bronx, after his parents emigrated from Latin America during turbulent political times. He has decades of experience working as an advocate for workers' rights and immigrant rights, and he has served on the boards of Massachusetts Jobs With Justice, Centro Presente, United for a Fair Economy, U.S. Labor Education of the Americas Project, and the ACLU of Massachusetts. For the past 15 years Gabe Camacho has worked for AFSC as their Immigration Programs Coordinator and as part of AFSC's Communities Against Islamophobia project.
Founded in 1917, AFSC is a Quaker organization that promotes lasting peace with justice in the U.S. and around the world. AFSC was awarded the Nobel Peace Prize in 1947 for its rescue and relief efforts before, during, and after World War II.
For more information and to RSVP, please visit either our Facebook Event or our Eventbrite Page.  Thanks!