Help the Friends House expand our impact
Dear Friends,
Have you attended an event at the Beacon Hill Friends House in the last year? Used our space for your meeting or action? Learned something with us? Or found meaning in the work we've been doing?
Over the past three years, we've been making an intentional effort to become more of a public institution. In early 2017, the Friends House board and residents committed to a bold strategic plan with a vision of pairing the strength of our six decades of residential community with more outward-facing work as a center for Quaker-focused life, education, and social action — and with renewed focus on intentional stewardship of our building and resources for the long term.
We also set a three-year goal to raise $175,000 by June 30, 2020, to fund this expanded work and we're now more than 94% of the way to our goal!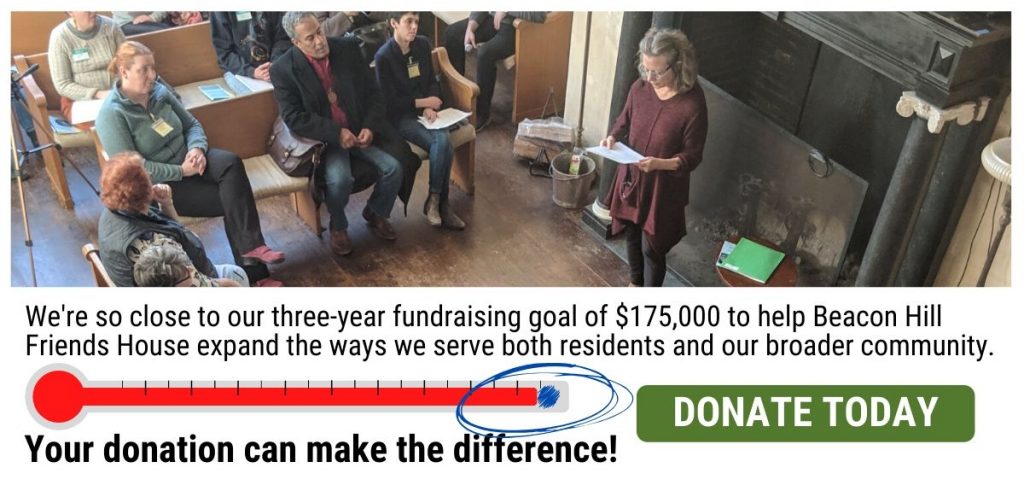 Three years ago, we launched this effort to expand our longstanding work as a residence grounded in Quaker principles to become a vibrant hub for learning and action even for those who live outside these walls. With the generous support of people like you, we've made a lot of progress, including:
Hiring a full-time Program Manager who has led our work to organize powerful event series open to the public, host outside groups who use our space for their own meetings and events, and nimbly grow a popular series of nourishing online programs since the start of the Covid-19 pandemic.
Building connections and partnerships with many community groups, activists, and advocacy organizations that have used our space — for hundreds of hours each year — to support their work on racial equity, climate change, immigration justice, LGBTQ rights, and more.
Hosting a broad range of contemplative, spiritual, and Quaker-related programming open to the public — all free or priced with accessible sliding-scale fees. Part of the resident experience at BHFH is exposure to Quaker practices and principles that are relevant to anyone — and our expanded public programs are helping bring that experience to others.
Growing capacity for individual leadership and action by hosting hundreds of participants in workshops and training sessions on issue-based advocacy, activism, and social movement-building.
Taking steps toward greater faithful stewardship of our building and our resources by enhancing our long-term budgeting practices, continually expanding our community of financial contributors, and starting preparations for a comprehensive building conditions assessment and facilities Master Plan for our unique and treasured building.
This is just some of the work that supporters like you have made possible.
Although this strategic plan "campaign" is coming to a close, our work isn't nearly over — in fact, we're just getting started. We're excited to continue building on the momentum of these first three years as we live more fully into our shared vision for our Friendly House as a sustainable hub for living, learning, and working to make the world better. Thank you for all you do in support of vibrant community and a more just world — through whatever your involvement has been in the Beacon Hill Friends House and beyond.

In the Light,

Nils Klinkenberg
Executive Director, Beacon Hill Friends House

P.S. We do need your help to get us over the finish line and reach our funding goal so we can continue to build momentum and lean into this powerful vision of service for the Friends House — even in these difficult times. Your support of our work today will help us continue living into this vision. Will you chip in today to help us meet our goal?