Jen Higgins-Newman – Program Director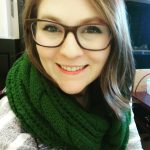 Jennifer Higgins-Newman joined the staff of the Friends House as the program manager in January 2020 — but has been a part of the community here since July 2017 as the clerk of the Quaker Learning Committee. Prior to joining the staff at BHFH, Jen worked in nonprofit outreach and advocacy, most recently for The Public Interest Network, where she wrote and designed content for environmental and public interest advocacy groups.
Jen has a B.A. in politics and philosophy from George Fox University and a Master of Theological Studies degree from Vanderbilt Divinity School. She lived in a community similar to the Friends House when she studied abroad at Oxford University through the Scholarship and Christianity in Oxford program. Jen is a member of Beacon Hill Friends Meeting and lives at the Friends House with her spouse, Ryan. In addition to her work at BHFH, Jen serves on New England Yearly Meeting's Living Faith Gathering planning committee and is a regular volunteer with the Boston Debate League.