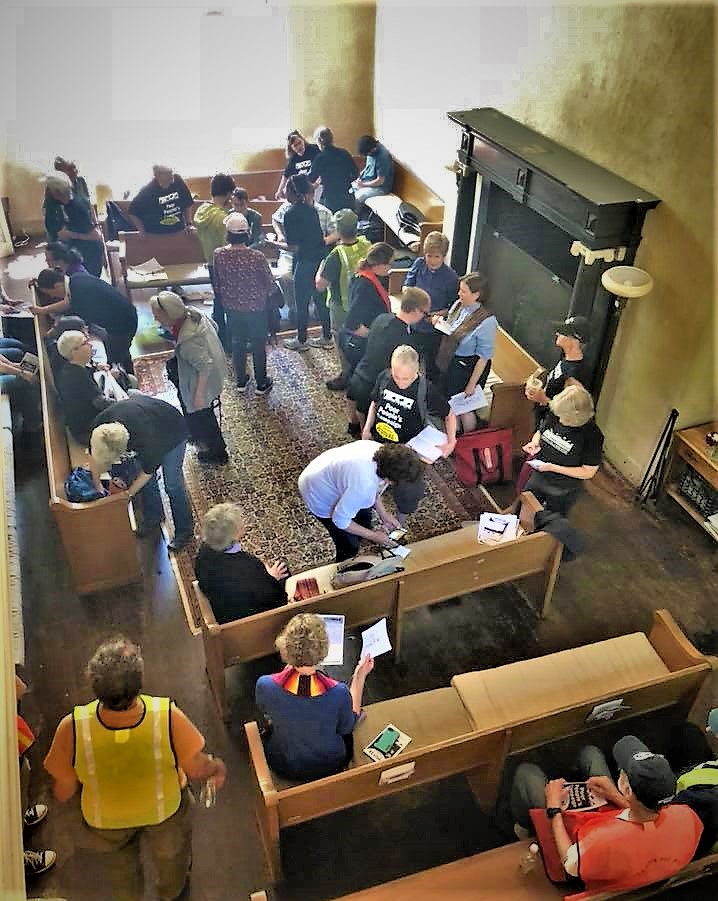 Participants in the Massachusetts Poor People's Campaign gather for training in the BHFH Meeting Room before an action at the State House, May 2018
Update 8/13/2018: We are no longer accepting applications for the QAPM position. We are grateful to all our applicants and those who spread the word about the position, and we appreciate your patience as our search committee conducts its discernment.
Introduction
The Beacon Hill Friends House (BHFH), located in downtown Boston, is a center for Quaker education and witness, the home of Beacon Hill Friends Meeting, and a residential intentional community inspired by Quaker principles. Since 1957, between 18 and 22 people each year – Quakers and others – have made a home at the Friends House based on Quaker principles of faith, simplicity, integrity, community, and social responsibility. BHFH is currently implementing an exciting new strategic plan to strengthen our work as a center for education, leadership, and social action grounded in Quakerism and Quaker values.
We now seek to hire a Quaker Action Program Manager to lead the expansion and day-to-day management of our programming to advance social justice and the traditional Quaker values of peace, integrity, faith, community, and social responsibility. Please apply by emailing search@bhfh.org following the instructions at the bottom of this page. We recommend applying by Sunday, June 24 as we will begin our review following this date.
Position Overview
Schedule: Full-time, weekdays, with occasional evening or weekend events.
Expected start date: July 2018 or other date as mutually agreed.
Compensation: Free single room (or half of a double if desired), full board, and all utilities in our beautiful large historic house on a quiet tree-lined street in downtown Boston. Minimum salary of $25,000. Robust benefits package including full health insurance and generous vacation policy. Employees are eligible for a retirement contribution equivalent to 10% of their salary after one year of work for the organization.
Housing: Our intention is that this will be a residential position, meaning that the Program Manager will live at the Friends House as a member of the residential community and receive room and board as part of the compensation package, as do the other three staff members of the Friends House. Interested candidates for whom this would pose a barrier or who have questions about the residential arrangement are encouraged to contact search@bhfh.org.
Description: The Quaker Action Program Manager of Beacon Hill Friends House will work in two closely related areas: action and education. Programming will be developed in collaboration with BHFH's Quaker Action and Quaker Learning committees, and with the Executive Director and other staff. The Program Manager role is a new position, and we look forward to working with the successful candidate to further scope and define the role and the strategy for our programming and outreach.
We envision expanded Friends House programming as a mix of social justice action and advocacy opportunities, educational events, and arranging for the use of our space by third-party groups – although the balance among these and the specific forms the programming take will be determined as the work unfolds. The Program Manager will also work to build collaborative relationships with leaders and members of area social justice organizations and related groups, and will recruit and train New England Quakers and the broader public to act in solidarity with these groups in support of their goals that are consistent with Friends' Testimonies.
Responsibilities will also include working alongside the other BHFH staff in supporting the administration of the organization and house community, and fulfilling the ongoing responsibilities of residency in the house such as chores, weekly dishcrew, and attendance at biweekly House Meeting and some house dinners. The Program Manager may also support grant-writing or other fundraising and development efforts.
Responsibilities
1. Facilitate and Promote Social Justice Action Opportunities Grounded in Quaker Faith and Practice
In partnership with the Executive Director and the BHFH Quaker Action Committee, develop a strategy, and a variety of actions within that strategy, to promote action grounded in Quaker values and principles and increase the capacity of New England Quakers and those sympathetic to Quaker values to engage in activism and advocacy.

Build relationships on behalf of BHFH with Boston-area social justice organizations, interfaith groups, congregations, and others, focused on issues including but not limited to racial justice, climate change, immigrant rights, economic justice, and others.

Explore and initiate collaborations with other Quaker justice and advocacy organizations such as the Friends Committee on National Legislation (FCNL) and the American Friends Service Committee (AFSC).

Serve as a recruiter, trainer, and motivator of individuals who share Friends' values – including House residents, New England Quakers, the larger interfaith community, and others – to participate in the work of frontline social justice groups in a spirit of solidarity and accompaniment.

In collaboration with the BHFH Quaker Action Committee, identify advocacy priorities each year and mobilize House residents, area Quakers, and the broader community to engage in active policy advocacy at the State and other levels.

Work to inspire and prepare Quakers and like-minded groups in New England to adapt this model of faith-based statehouse advocacy in other states through articles, talks, training workshops, and presentations at NEYM Annual Sessions and other gatherings.
2. Direct BHFH Public Educational Programming
Work with the BHFH Quaker Learning Committee to develop a variety of educational programs of interest to New England Quakers, the interfaith community, fellow residents of Beacon Hill and of Boston, and the general public. These programs will predominantly take place at the house, though may be adapted as traveling workshops and/or online.

Serve as a facilitator, workshop leader, and/or moderator of several of these public learning opportunities.

Lead promotion and publicity – including through printed media, publications, web, social media, email, and other channels – and leverage external partnerships to generate strong levels of participation in BHFH events and other programming.

Assist the BHFH Residency Manager in enhancing programming and other aspects of the residency experience that focus on exploring and sharing the spiritual or personal paths of residents, including learning from Quaker faith and practice as well as other sources.
Required Qualifications
At least 3-5 years' experience in positions at social justice, religious, community, or other organizations developing partnerships and organizing or otherwise working closely with people of diverse backgrounds, ages, and cultures.

Excellent time-management and organizational skills; experience and ability to work largely independently while managing multiple projects and competing priorities.

Confidence and strength in written and verbal communication.

Demonstrated experience in similar roles showing creativity and persistence both to come up with new initiatives and partnerships and to see them through to completion.

Willingness to work closely with other staff members, board members, residents, and volunteers to support general BHFH operations and activities in a spirit of collaboration, optimism, and mutual support. The role of staff of the Beacon Hill Friends House is largely that of "facilitative leadership" – where taking initiative and listening deeply are both important.

Knowledge of and commitment to Quaker social testimonies and Quaker approaches to social change. Because of the religious nature of much of our programming, we actively seek to employ members of the Religious Society of Friends, active attenders of Friends meetings, or others highly familiar with and sympathetic to Friends' views and practices.
Preferred Additional Qualifications
Experience as an organizer or other highly public-facing role.

Experience in developing or presenting educational content.

Work or volunteer experience with a Quaker organization or Yearly Meeting and familiarity with Friends' approaches to organization and decision-making.
Organizational Description and Structure
Beacon Hill Friends House (www.bhfh.org) is a nonprofit Quaker social action center and residential community based in Quaker principles, located in a historic building near the Massachusetts State House and the central parks and public transit hubs in downtown Boston. Our residential program is a multigenerational, cooperative community grounded in Quaker practice and principles but open to those of any faith or non-faith. Residencies last up to four years. Our other programs include offering hospitality through overnight guest rooms, providing public meeting spaces for Quakers and others, and organizing mission­-related events for the public. We are currently implementing a new strategic plan calling us to enlarge our role as a center for Quaker life, learning, leadership, and action.
Public programming of BHFH addresses a wide range of issues, including but not limited to traditional Quaker concerns such as social justice, living with integrity, racial and economic equity, peacebuilding, criminal justice reform, immigration, and environmental stewardship. The audiences for Beacon Hill Friends House programs span various intersecting communities: Quakers, people curious about Quakerism, members of other religious congregations, neighbors on Beacon Hill and elsewhere in Boston, Friends House residents, Friends House alumni, anyone who shares Quaker values in our mission or who wants to work alongside us in moving toward a more just and peaceful world.
Beacon Hill Friends House has four staff positions: the Residency Manager, the Resident Chef­/Kitchen Manager, the new Quaker Action Program Manager, and the Executive Director, who supervises the other three staff. All staff members reside at the House. The staff works closely as a team to ensure healthy administration of this small but dynamic organization, where flexibility and give ­and ­take are essential. Staff members also work closely with BHFH's Board of Managers and volunteer Committees.
To apply:
Send a letter detailing your qualifications and interest in the position, along with a current resume, to search@bhfh.org and fill out a staff application for residency in our community. Applications will be reviewed as received. Priority will be given to applications received by Sunday, June 24.
Beacon Hill Friends House is an equal opportunity employer. We strongly encourage and seek applications from women and people of color including bilingual and bicultural individuals. Applicants will not be discriminated against because of race, color, religion, sex, national origin, ethnicity, age, disability, sexual orientation, gender identity or expression, or any other characteristic protected by law.