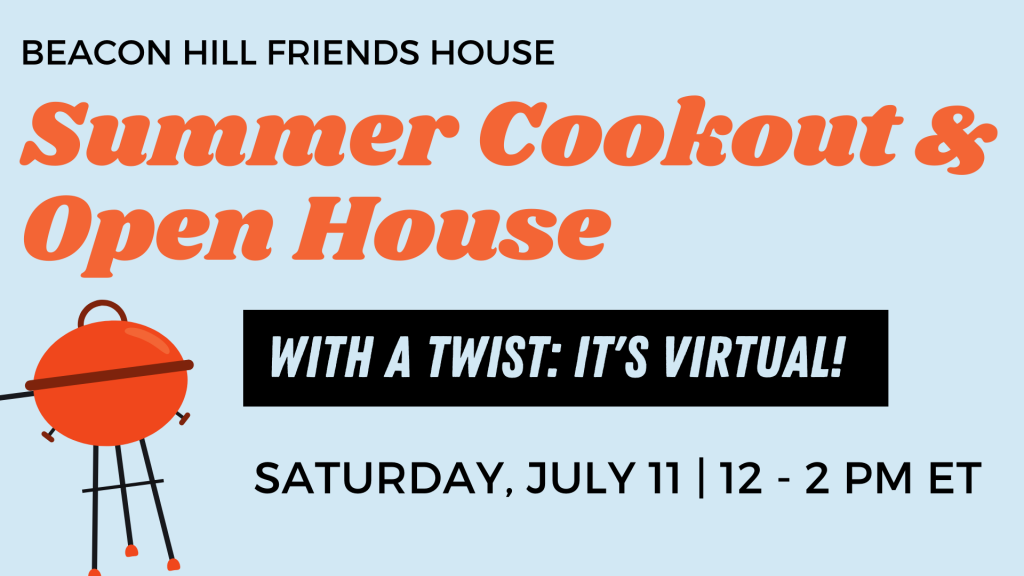 Every year, we hold a Summer Cookout and Open House — where friends and family of residents, resident alumni, local Quakers, Beacon Hill and Boston area community members come for a Saturday afternoon filled with community, nourishing food, and fun games.
It is one of the larger public gatherings we put on at the Friends House, with more than 100 people stopping by throughout the day.
This year, we are disappointed that we are unable to have this event in-person due to the coronavirus pandemic. However, although we can't have this large, in-person gathering this year, we are living into the spirit of our annual cookout and open house by opening our doors virtually!
Most of the event will take place LIVE on Facebook at: https://www.facebook.com/BHFHBoston/live/
Here's the schedule we've cooked up:
12 PM – 12:30 PM (ET) 
Tour of the Friends House by Nils Klinkenberg, Executive Director. 
Want to know what the Friends House looks like now? Want to learn more about its history? Tune in at 12 PM to attend a live virtual tour of our centuries-old building. 
12:30 – 1 PM (ET) 
Triple feature: Folk songs with Jeff Edenberg (our Residency Director), Garden tour, and resident room tours (the Director's Suite/Room 20, and Room 9)
Part 1, Folk songs with Jeff: In addition to his staff role at the Friends House (Residency Director), Jeff Edenberg is also a musician! Join Jeff in singing some folk songs. 
Part 2, Garden Tour: Our gardens are blooming! Take a trip with us to see what we have been tending to in our courtyard and on our deck.
Part 3, Room tours: Do you remember what the Director's suite looked like when you lived here? Have you ever wondered what it looks like? Did you live in room 9? Take a trip with us to see how these rooms are currently set up and being lived in! 
1 PM – 2 PM (ET)
Zoom community hour!
Join us on Zoom for a session to chat, reminisce, and enjoy the company of others. Register below to get the Zoom link! 
RSVP below to let us know you're coming! We'll send you information for how to join us in these events.