Vickie Wu – Resident Chef and Kitchen Manager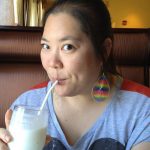 Vickie Wu became BHFH's resident chef and kitchen manager in April 2017.  This is her first experience with intentional community life and she is loving it! A former banquet/catering chef, Vickie is amused when people ask her about the challenges of cooking for 20 every day. It's a cakewalk compared to custom banquets for hundreds of people every day!
Vickie grew up just outside of Anaheim, CA, and moved to Worcester, MA for college where she attempted to get a degree in biomedical engineering but ended up with a degree in theatre instead.  In her spare time, she continues to enjoy being involved in local community theatre. Occasionally she also updates her blog and website at www.vickiewu.com.