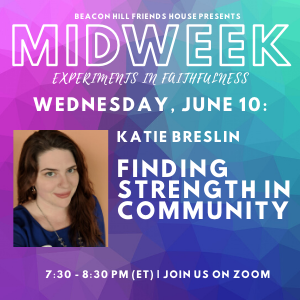 Date
Wednesday, Jun 10, 2020
Time
7:30 pm - 8:30 pm
MIDWEEK June 10, 2020: Katie Breslin | Finding Strength in Community
Quakers have a history of holding worship on First Day (Sunday) and Midweek (Wednesday). 
Here at the Friends House, we are interested in experimenting with what midweek worship might look like. So we came up with MIDWEEK, a one-hour facilitated spiritual practice and reflection with a Quaker flavor on Wednesday evenings on Zoom. (From 7:30 – 8:30 PM, ET)
This event is free and open to the public. Invite your communities!
___
Who is supporting you right now? How can we bring others into the beauty of our lives? In this chaotic world, we are not meant to do our life's work online. How can we honor the gifts that others have in our community and compliment them with our own?
As Friends, we believe in corporate discernment and support. During this worship, Katie will lead an intentional activity to consider the ways that others can support us in our lives.
Katie Breslin is a member of Friends Meeting of Washington and is currently sojourning at West Richmond Friends Meeting. She is a first-year student at Earlham School of Religion. Before moving to Richmond, Katie was the young adult program manager at Friends Committee on National Legislation. You can follow her on Twitter at @katiebreslin.
Check out Katie's work here: www.katiebreslin.com