The Beacon Hill Friends House hosts regular educational events in service of our mission and our community. Unless otherwise noted, all events are free and open to the public. See here for guidance on directions, transit, and parking. Our ground-floor Meeting Room and Dining Room are fully accessible; spaces on other floors (including the Parlor) are serviced by a small elevator, although its entrance is narrower than a standard wheelchair.
Public Events Calendar: 
Upcoming Events:
Feb. 20, 2020: Sacred Ground for Decolonizing: Stories about Climate Action workshop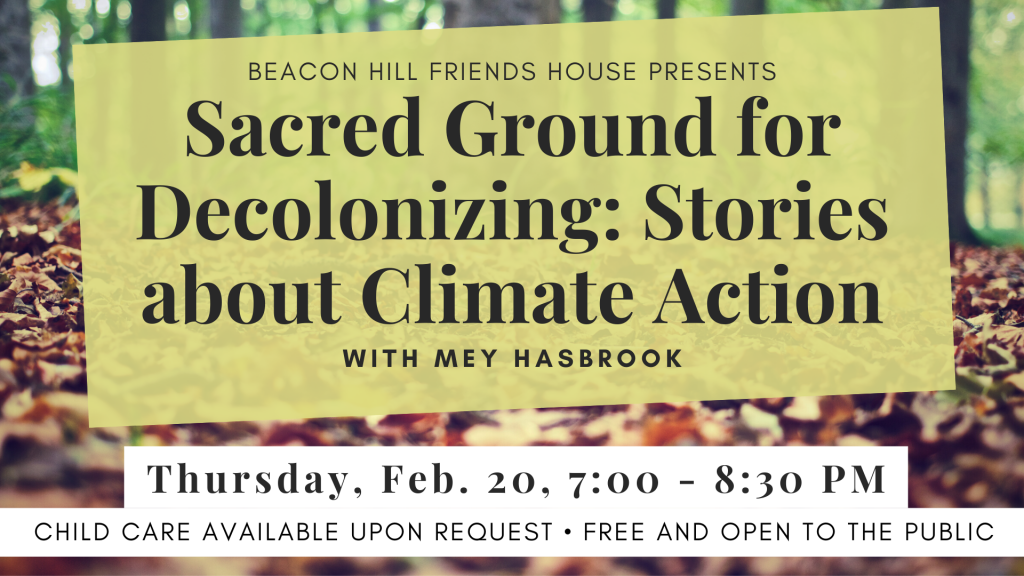 Recurring Events:
Sunday Meeting for Worship: Sunday mornings, 10:30-11:30AM. Join Beacon Hill Friends Meeting for worship in the manner of Friends (Quakers). Visit www.beaconhillfriends.org for more information.
Creative Meditation: Tuesdays at 5:45PM and Wednesdays at 12PM, join Zoe Arguello and learn how to meditate. Learn more.
Second and Third Wednesdays, Shape Note Singing in the Meeting Room at 7:00PM. Shape note singing is a participatory musical experience rooted in traditional American hymns. All are welcome, with no experience necessary.