Facilities Rental
As of this time, we are currently closed to the public. We look forward to opening our doors again as the threat of COVID-19 lessens. Please keep us in mind for your future needs.
Book one of our gorgeous spaces for your next meeting or gathering!
Our great location, within steps of all major transit lines, makes BHFH a great venue for gatherings of all sorts, from retreats and meetings, to fundraisers and concerts.
We are thrilled to be able to offer affordable sliding-scale rates for non-profits and community organizations.
To submit a booking request, click here.
Our spaces:
The Meeting Room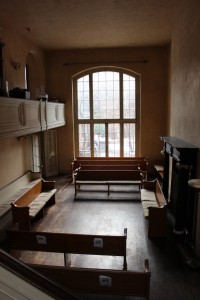 The Meeting Room is our primary event 
space. It has 12 benches that are easily moved to accommodate different needs for the space. Most commonly, the benches are arranged in square format for worship, or in auditorium style for concerts. A number of benches can be moved out of the room to create an open floor plan. There are also 10 cushioned folding chairs that may be used for seating.
The balcony that overlooks this room is used for office and storage space and is generally not available as part of the rental.
Food and drink are permitted in this space, and are usually served from the adjoining "Butler's Pantry" which is located behind the curtained glass doors in the upper left of the first photo. There are two large wooden tables and a few smaller folding tables that can be arranged according to various needs.
The permitted capacity for the Meeting Room is 70 people.
There is a side door off the Meeting Room that requires no stairs and is accessible to most wheelchair-users.
The Parlor
The Music Room and Parlor are two adjoining rooms connected with an open arch. There is capacity to seat approximately 20 people in either room. Seating is a mixture of armchairs, wooden chairs, and folding chairs. The archway between the rooms gives a feeling of continuity between the rooms, but the wall that the archway is in limits the ability for people in one room to fully participate in the activity in the other room.There is a Steinway grand piano in the Music room.
Food and drink are rarely permitted in this room.
This room is on our first floor, and is accessible only via stairs, or by a small elevator which cannot accommodate many mobility devices.